Don't send that important data by email! Here's how to securely upload your data to Compaas.
Sometimes it's useful to be able to securely send information to Compaas. When we're building your first set of reports, in particular, you may find that you have a set of spreadsheets, text files, PDFs, or any kind of related information that can be helpful in the process.
To safely upload your information to Compaas, use our Secure Uploader. You can access the uploaer in the upper right-hand dropdown menu, in the link marked "Data Setup".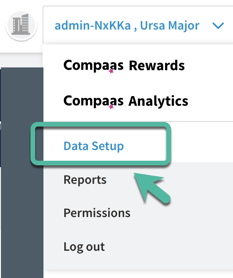 From this screen, you can see any files you've uploaded in the past, as well as upload new files.

Most often secure upload will be to provide extra data not in the HRIS or stock administration system, such as performance review ratings, rewards cycle budgets, or salary band values.
You won't see results immediately, other than knowing your file was securely uploaded and in our hands. That's because we handle your upload asynchronously so we can make sure the right thing happens when merging records.
We'll get an email notification of the upload, but feel free to drop us a line to let us know!